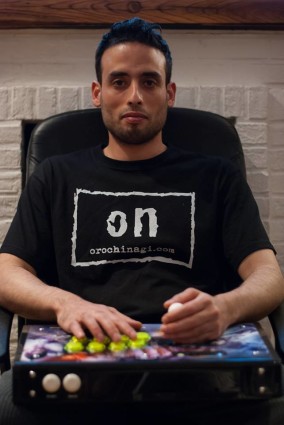 In English and French
-Games/Jeux : 1er KOF13, 2éme SSF4ae2012, 3éme UMVC3.
-Favourite Characters/ Perso favoris: Kof13 (Beni, Chin & Karate) SSF4ae2012 (Adon) UMVC3 (Wolverine, Sentinel & Doom).
-Pays : Belgium . Belgique (Bruxelles)
-Likes/ J'aimes : Sunshine / Soleil
-Dislikes/ J'aime pas : The cold/ Le Froid
-Favourite Match / Défi ou match favori : ALL! / TOUS
-Future Goals / Futur objective : Become one of the best players in the world! Devenir l'un des meilleurs joueurs du MONDE !!!
-Would like you to know / Quelque chose a dire aux monde :
"I'm training to reach the highest level possible SO PREPARE YOURSELVES!"
"Je compte aller le plus haut possible a Kof13, DONC PREPAREZ VOUS !!!"
Track Record
Shoryugame (19/10/2013) KOF13 Position : 3éme / 3rd
Deuxieme Event : Player (Liege) KOF13 Position : 1er / 1st
Paris Full Contact KOF Solo KOF13 Position : 2éme / 2nd
Premiere Event : Player (Liege) KOF13 Position : 1er / 1st
WGC 2013 KOF13 Position : 17eme / 17th
SSF4ae (Anvers) SSF4ae Position : 1er / 1st
MK9 (Manga Zone Bruxelles) MK9 Position : 3eme / 3rd
Tournois OnLine SSF4ae2012 (HGL Arena) SSF4ae2012 Position : 2eme /2nd