Arcades & Gamebars
CrossUP
Sega Avion
Taito Namba
Monte50
Kouhatsu
Taito50
Gamebar Continue
Meat & Bones
Gamebar 1up
Video Game Bar Space
Notice: the game bars are having problems due to the legal issue of gaming copyright and some have stopped housing games. Please check back. Arcades continue as normal. Cross up is not affected (thx Tetsuro)
Cross Up
Floor 4.
Hours: Weekdays: 6:00 pm ~ 11:30 pm (on Friday, it'll stay open till 5:00 am, if people do)
Saturday and Sunday: 2:00 pm ~ 23:30 (Saturday can stay open till 5:00 am, same as Friday)
Closed: Monday
On weekends, 2:00 pm ~ 7:00 pm tends to be time for tournaments & events, so please check their

 

twitter  
It's a FGC recommended hotspot with international players from Japan, Mexico & USA such as Koji KOG, Layec, Pako, Vicio, Score, Violent Kane and more have been playing here, exchanging pleasantries about their visit on twitter!
The last person to leave a review on Google Maps left a photo of the King of Dinosaurs! You can be sure KOF gets played there, along with card games, SFV, BB and GG.  Not far from Monte50, be sure to check it out!
tetsur00 from HonyakuKOF sometimes goes, and speaks English, so check the twitter too!
You can find Game Bar & Cafe Cross Up in the building below on the 4th floor.
[ google map ]
SEGA Avion
When I visited this joint, it was heaving.  The fighting game floor was packed with loads of different fighters including the latest KOF, all being played.  Recommended! It's also walking distance from Den Den Town, right outside Namba station.
[ google map ]
Taito Namba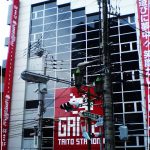 Just around the corner!  Haven't visited it personally.  Hard to miss…
[ Google map ]
KOHATSU
This is THE famous arcade in Osaka, running a regular stream with classic and new titles.
http://www.ko-hatsu.com
[ Google Map ]
Go to Minami Mori Machi(???)?station and Ko-hatsu game centre is there.
Perhaps you can play ss5sp on Saturday or Monday.

— ????? (@polimrin) September 22, 2019
Monte 50
Old report: I ran around a few other arcades but the thing with Osaka is that many arcades are known for a particular game more than the range. I was happy enough at Sega Avion, which has a good all round reputation. On the other hand we have Monte 50, supposedly the best spot in Osaka for competition (especially Tekken), arguably because it's 50 yen a go.  I've never been there, but here are instructions culled from a few random posts on the net. Using Hep 5 as a landmark (that's the big wheel of Osaka), get to this KFC, cross the road and go straight into the mall. You should be able to see it on the left hand side, about 50 metres in.
[ google map ]
Backups: in case the others are closed… Haven't been there, can't vouch for them.
Osaka Game bar 1up
[ google map ]
Video Game Bar Space
[ google map ]
Meat and Bones
Notice: bar has now removed games (July 2018)
?????? ???????2-1-18 ????6F 542-0086 Osaka
Recommended by SBR.Lolo, you can eat and game here, well known for its Marvel nights.
Apparently lots of gaijins come here too because it looks like a refuge in a zombie apocalypse! 
Friendly bar owner too!
GamebarContinue
The oldest game bar in Osaka – unfortunately it's here with just a note: this bar is closing Summer 2018