(No Ratings Yet)


Loading...

There are three jungle stores in Japan, not to mention their overseas store.
In 2019 the Akiba backstreet store hadn't changed much, here are some new photos! Note the customer stock interest chart, where you could influence their purchase decisions!
I first stumbled across Jungle in the backstreets of Akiba in 2012. The shop was fresh and the stock seemed new. Looking closer, in fact it's all sold as "used" – which of course includes never opened "new" items!
Jungle continues to impress and strives to compete, with special prices that blow away the competition, with daily deals, I was actually on hand to witness one on Shinobu (Bakemonogotari), certainly lower than all the other stores in Akiba that day.
Anton, resident gaijin, can be found in either store and can help you with any queries about the store, or even Akiba and anime trends in general! As you can see, he's more involved with the marketing side of things now, being the face of the price down scheme:
While some stores change their prices according to the rarity of the item, Jungle will do specials. You just have to be lucky! Look at the images below, showing the discount.
Jungle is perhaps the most gaijin friendly store, with explanations on their item grading system, so you don't get caught with a C grade item (JUNK) without knowing!! As you can see, Tax free starts at 5,400 yen!!! But here they will give you a receipt to take to the airport.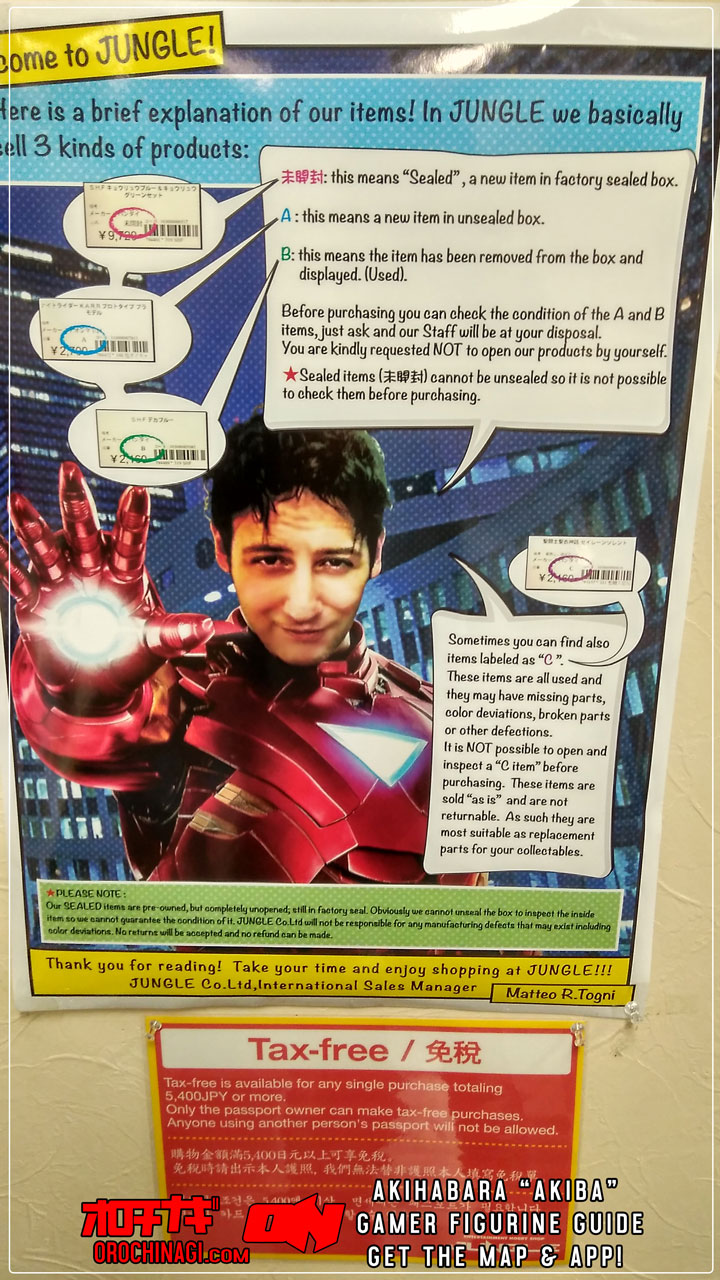 Akiba backstreets
Like Devilman? You can buy this life size figure no problem, and Jungle has an exclusive on this one, didn't see it anywhere else!
As the stock has increased, perhaps we can say some of it has brought the standard down a little, with loose bagged figures and some damaged/junk grade items. Not that it's up to me but the paint on the walls seems a little faded. When you walk into Ami Ami or Suguraya you'll notice the difference.
TRANSFORMERS
Great shop with rare TFs and those crazy high quality bootlegs! Jungle now has a second store in the Radio Kaikan tower, not to mention their HQ in Osaka. Well worth a visit!
Although Mandarake has apparently lowered its prices more in line with the market, Jungle is just more accessible. If you are looking for unofficial TF fan works, they also have a large selection to check out. Also spotted the Evangelion Prime here.
You can even find loose bag transformers here, which kind of boggles the mind.
Radio Kaikan Tower
The reborn monolith contains a new branch of Jungle! Prices should be higher, but it didn't really seem so.
As said, both stores operate the special price down errr special, but not at the same time! So, unsurprisingly that means you should run between both stores before buying something hahahaha….
Also, while most shops don't want you to take photos, Jungle is happy for you to do so, as they believe in the idea of social media. So go share those photos!
Osaka
Of course, there is the original (?) store in Osaka, and it's their biggest. You can see items packed up ready to be sent out, there's such a mess of things (and they were refitting the shop as we visited). After walking out and going into the next shop, realised it was an extension! Check out the TWO photo galleries below!