Did you know the most famous stage in KOF history? It's a simple bridge with traffic flowing through. What's the big deal? Well, the bridge is actually part of Esaka station, the nearest to SNK's headquarters in Osaka, which they featured in many of their games.
Fans visiting may need tissues to hold back the tears as the Neo Geo arcades that famously lit up the road are now gone, along with the famous logo on the tower.
Still, it's easy to reminisce and stand in the spot to frame the view to match the one in the game.
The King of Fighters 98 is such a legendary game that even though it is two decades old, it still enjoys success, being re-released on new platforms such as the Nintendo Switch.
To visit the classic Esaka stage, you'll need to head to Osaka, then take the Midosuji Line, only a few stops from Shin Osaka station, to Esaka station (the stop number is M11). Once outside you'll need to reach the road level and have to turn around a few times to get the right angle.
Some shops have gone, and the two Neogeo Lands plus the one in the tower have closed, but the bridge view is unmistakable once you find it.  An easy landmark is the Excellsior Caffe on the corner (2017).
SNK's Tower aka Geese Tower is situated on the right side of the road, opposite the Neogeo lands, it actually held another Neogeo Land inside it.  Every time I visited, it was a weekend and it was closed!  
The base of the tower was also featured in KOFXI

The SNK logo was still there in 2009, but when I visited in 2017, the sign had been taken down, however, the edges are still noticeable if you looked hard enough….
SNK Playmore moved out of this Osaka office, its logo remains burned into the building – amazing yet symbolic.#snk pic.twitter.com/13CGn3yxkR

— John Andersen (@JohnAndersen21) April 5, 2014
Happily you can still walk to the SNK office around the corner but you'll need a business appointment to actually go inside.
Hi @MaurMaur82, SNK moved to a building in Osaka (seen here), they have offices in Tokyo, Hong Kong and Seattle also. pic.twitter.com/xxiBEBNyuv

— John Andersen (@JohnAndersen21) April 5, 2014
Here's a little peek inside the office!
Finally, the view from the Esaka overpass was used to create the KOF96 and KOFXIII Esaka stage.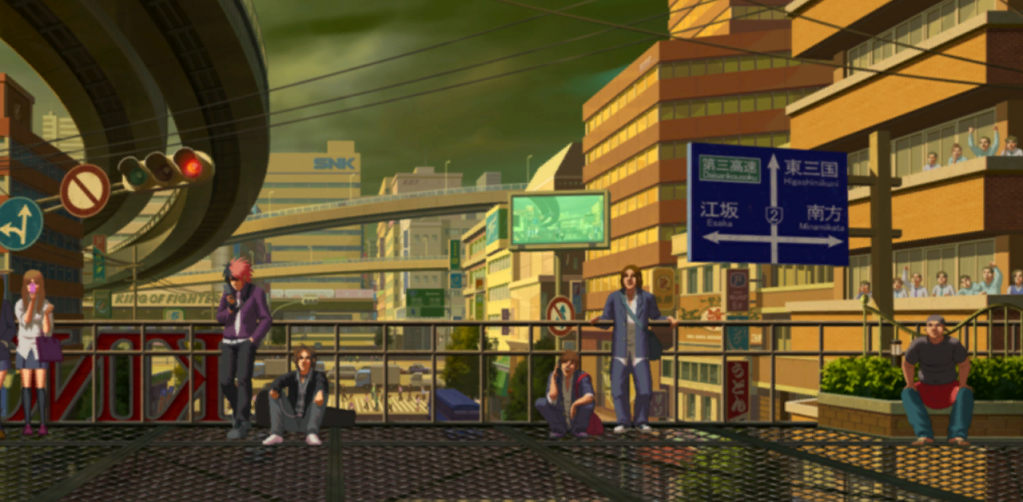 And that should round up the gamer landmarks for Esaka!
Thx to KOF UK for the KOF96 Stage pic. KOFXIII stage pic source was private, couldn't access source.