COMBOS
Nice combos here with focus more on hits and juggles rather than raw damage –  from Setsuna MX!  Shoutouts to Team Danger!
Squenix vs SNKP
Now if you remember, SNKP filed a criminal complaint against Square Enix for their use of characters in the manga "High Score Girl" without permission or consent.
Square Enix has responded with a counter civil suit, to say that they have done nothing wrong and owe no such monies.
If the decision goes against SNKP, they could fined by the courts or even given jail time but SE needs to have solid evidence that proves they had all rights to use the names or argue some sort of way out.
The hearing, perhaps first of many, will take place Dec 2.
I'm not a legal expert but I guess there is still time for a settlement and it could all be put to rest rather than waging war.
Tournaments:
This Sunday 23rd!
Games Lines a le plaisir de vous annoncer son nouveau tournoi l'Armor Break
Pour ce premier opus nous organisons 2 tournois sur les deux licences phares Ultra Street Fighter 4 et The King of Fighter 13.
DATE :
Dimanche 23 Novembre
Ouverture : 14h00
Début des tournois : 15h00
LIEU:
Meltdown
6 Passage Thiere,
75011 Paris
STREAM: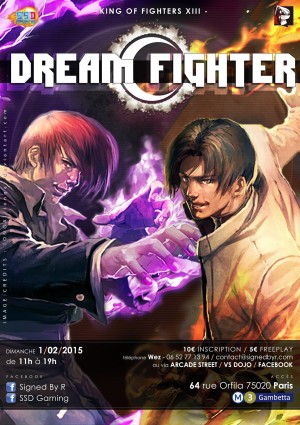 Tournoi full KoF XIII Dream Fighter le 1er février, par SSD Gaming & Signed By R.
Tournoi de préparation pour le Cannes Winter Clash, avec beaucoup de postes et une zone défis/money match streamée pour les guerriers. Venez nombreux !
Lien de l'event : https://www.facebook.com/events/786340041412845/?ref=2&ref_dashboard_filter=upcoming
New Line Stickers update!
"THE KING OF FIGHTERS" 20th Anniversary Special Campaign!
Release of the long-awaited 2nd volume of "KOF" LINE Stickers!
SNK PLAYMORE CORPORATION (Corporate HQ: Suita-city, Osaka, Japan, Company, President & CEO: Koichi Toyama) is proud to announce that the
2nd volume of KOF's LINE stickers are now available to purchase on "LINE", communication app which allows users to call or text someone else for free.
SNK PLAYMORE released on LINE the 1st volume of their "THE KING OF FIGHTERS" stickers on September 29th, and following its great success, publishes today the Volume 2 of this sticker series in order to celebrate with all KOF fans worldwide the 20th Anniversary of the eponymous fighting game series. We hope you will enjoy communicating with your friends using these animated adorable character's illustrations!
?Stickers' title : THE KING OF FIGHTERS vol.2
?Target Platform : LINE STORE CREATORS' STICKERS
?Release date     : November 11th, 2014
?Sticker varieties  :40 types ( All in one package)
?Price           : 50 LINE COINS
?Copyright Information : © SNK PLAYMORE CORPORATION ALL RIGHTS RESERVED.
  * All company and product names are trademarks or registered trademarks of their respective companies.