ON Show 38: #Ranma1/2 #CWC #VanDammage News
Friday Night – The Orochinagi Show #38
Schedule: TBC
Will2Pac vs Tom Sawyer
Ranma 1/2 Tournament (BOTH GAMES)
Dead Souls Challenge
KOF XIII Challenges: Bash | Hombre | Shaman | Karatits | Hokuto | PharaON
Brownsky playing BBCP by himself
Metal Slug X on Steam
Announcement of New ON Team Members!
We will be streaming on:
http://www.twitch.tv/gunsmith_on and http://www.hitbox.tv/orochinagicom  FOLLOW AND DON'T MISS IT!
CWC Update
Considering Cannes Winter Clash?
Still not concrete but at the moment here are some rumours flying around (80% true)
KOF runs all day Saturday/nothing on Sunday
Xiaohai / Reynald tipped to be invited
Winner of Topanga to be invited for Ultra
Current schedule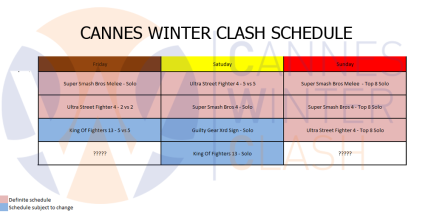 VANDAMMAGE 8.1
The Virtual Dojo Vienna proudly announces the next VanDammage opening Tournament! VanDammage – Pound of Flesh! We invite every fan of the Fighting-Game Genre to join this Tournament and to fight it out – who the best around is – with the finest players from Austria!
19-22 Feb 2015
Main Tournament Games:
– Ultra Street Fighter Fighter IV (Winner gets at least 500€)
– Ultimate Marvel vs. Capcom 3
– Guilty Gear Xrd
– Street Fighter III – 3rd Strike
Side Tournament are always welcome.
Information:
– The latest version of the games will be played.
– The entry fee will be 10€ for all four days.
– Entry fee for each main tournament: 10€ – pot will be split 60/30/10.
– The Winner of USFIV gets at least 500€
– There will be sponsored Prices, we'll update you on this as soon as we have further information.
– The Tournament will be streamed on our Stream-Channel: http://twitch.tv/virtualdojovienna
– There will be side events (other games, 2on2, etc.)
– Please bring your own adapter, if you play on Pad/Hitbox